06 Apr 2022
Oncology Professional Care Virtual Wins 'Best Digital Product Launch' at the 2022 Digital Event Awards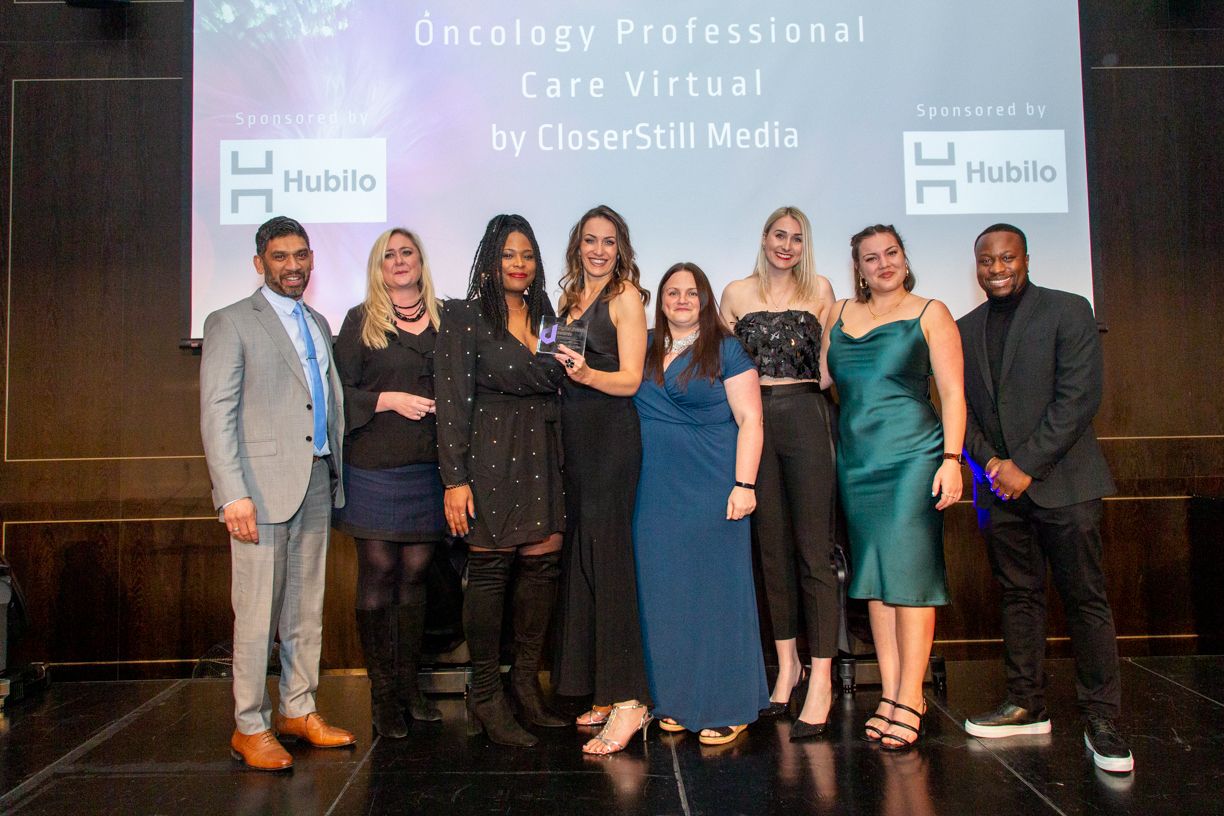 CloserStill Media Reports: Oncology Professional Care Virtual, by CloserStill Media proudly took home the award for Best Digital Product Launch at the 2022 Digital Event Awards on Thursday at Hilton London Bankside.
Oncology Professional Care Virtual won 'Best Digital Product Launch' at the Digital Event Awards on 31 March 2022, at the Hilton London Bankside.
The Digital Event Awards recognises excellence in the production and delivery of digital events. Entry is open to any company, team or individual who has been involved in the production and delivery of digital events between 1 February 2021 and 31 January 2022.
Oncology Professional Care Virtual took place on 9-10 June 2021 and was opened with an official welcome address from Dame Cally Palmer, National Cancer Director, NHS England.
Free for healthcare professionals, the CPD certified education programme was supported by NHS England and NHS Improvement, Macmillan Cancer Support and Cancer Research UK and other key charities and associations, with 30 online sessions and 46 expert speakers.
The programme tackled major challenges facing the industry, including the impact on Covid as well as insight into innovations and technologies, that improve treatment options and help detect cancers earlier.
The event attracted 1,497 active users and the feedback has exceeded expectations with 74% of attendees stating that OPC was 'better than expected' when asked how OPC met their expectations, and 95% stating that they thought the calibre of the speakers was either 'good' or 'excellent'.
The judges of the Digital Event Awards said: "With an event turnaround just 12 weeks, the judges praised the entry for delivering a high-quality launch in a short period of time. They also recognised the switch from in-person to live and were happy to see the event was still about to turn a profit."
The Oncology Professional Care Virtual team were delighted with the news. Event Manager, Lucy Clarke stated, "To launch a brand-new event in the middle of a pandemic presented challenges to say the least, but our key priority was always to support the training needs of healthcare professionals working in oncology – particular at a time when cancer services were so severely affected. This award acknowledges all of our hard work and the phenomenal results we achieved. We are now looking forward to replicating this success at the face-to-face version of OPC taking place in May."
The face-to-face edition of Oncology Professional Care will take place at the ExCeL London on 24-25 May. Attendees can register to attend here.
Sponsorship and Exhibition is also now also open for the event. To sponsor, speak or exhibit at Oncology Professional Care, please contact Lucy Clarke on: l.clarke@closerstillmedia.com
For delegate and marketing enquiries, please contact Heidi Rasanen on h.rasanen@closerstillmedia.com
-ENDS-
CloserStill Media, specialise in global professional events within the healthcare and technology markets. The healthcare portfolio includes some of the UK's fastest-growing and award-winning events, such as Health Plus Care, The Clinical Pharmacy Congress, The Dentistry Show, The Pharmacy Show and Acute & General Medicine.
It is a market leading innovator. With its teams and international events, it has won multiple awards, including Best Marketer – five times in succession – Best Trade Exhibition, Best Launch Exhibition, and Sunday Times Top 100 Companies to Work For – four years in series – among others.
CloserStill Media delivers unparalleled quality and relevant audiences for all its exhibitions, delivering NHS and private sector healthcare professionals from across occupational therapy, pharmacy, dentistry, primary and secondary care with more than £16m worth of free training.