SpaceOAR Vue™ Hydrogel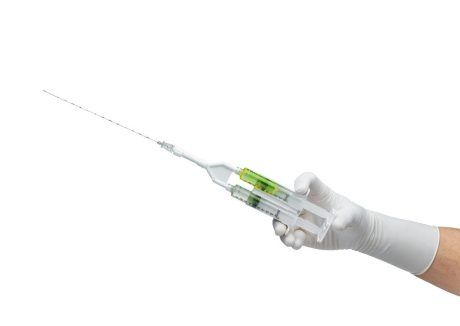 The SABRE Trial is the first global, clinical trial to evaluate the effectiveness of SpaceOAR Vue™ Hydrogel in prostate cancer patients receiving SBRT. SpaceOAR Vue, the next-generation radiopaque hydrogel, is designed to reduce the radiation dose to the rectum, thus minimizing the impact on patients' urinary, sexual and bowel functions.1
What does SABRE stand for?
Effectiveness of the SpaceOAR Vue System in subjects with prostate cancer being treated with Stereotactic Body Radiotherapy
Study objective
Demonstrate the effectiveness of SpaceOAR Vue Hydrogel in reducing late gastrointestinal (GI) toxicity in patients receiving SBRT for the treatment of prostate cancer.
Primary endpoint:
Proportion of patients experiencing late GI toxicity between 3 and 24 months after SBRT with or without placement of SpaceOAR Vue Hydrogel.
Secondary endpoint:
Proportion of patients experiencing a decrease in Expanded Prostate Cancer Index Composite (EPIC-26) bowel score greater than or equal to the minimal important difference (MID) in EPIC-26 bowel score from baseline to 24 months post-SBRT initiation.
References
Data on file with Boston Scientific.