Defiant Beauty Scalp Care Collection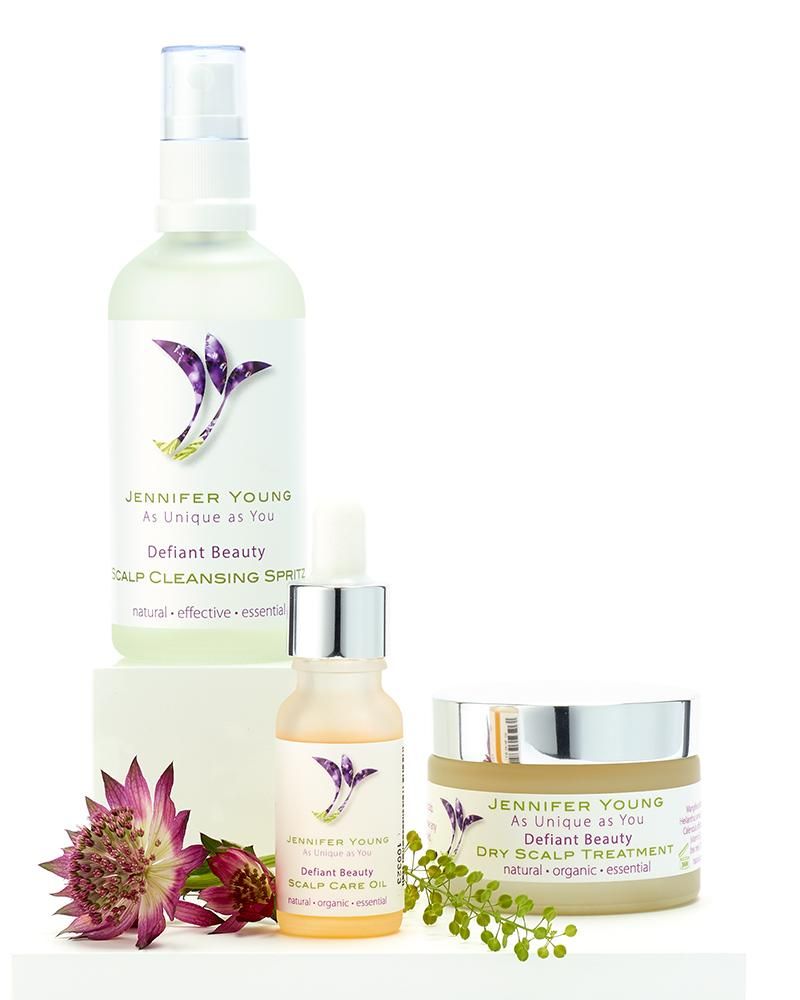 Many experiencing hair loss as a result of cancer treatment feel self conscious of their scalps, or are unsure about how to take care of it. However, scalps face similar side effects of treatment as the rest of your skin, often becoming tight, dry, sore, itchy or prone to breakouts. They deserve just as much love and attention as your face.
The Defiant Beauty Scalp Care Kit nourishes and soothes, using 100% natural ingredients, which are effective, yet gentle on senstive skin. Feel soothed, clean and refreshed.
Set includes:
Defiant Beauty Dry Scalp Treatment - 50g
Defiant Beauty Scalp Cleansing Spritz - 100ml
Defiant Beauty Scalp Care Oil - 15ml
These specialist products were created with the help of an NHS cancer centre, using real patient feedback. All told of the unexpected difficulty in caring for a scalp that they hoped never to have to see.
Scalp care becomes easier if one thinks about the cleanse, tone and moisturise that is a staple of facial routines. The Defiant Beauty Scalp Care Collection gives you everything you need for a facial for the scalp.
The Dry Scalp Treatment is a cleansing balm formulated specifically for use on the scalp. This indulgent, luxurious balm, containing essential oils known for their anti-bacterial properties, leave the scalp softened and moisturised.
The Cleansing Spritz is also formulated using natural ingredients with anti-bacterial properties, and is used to hydrate and cool the scalp. It may also be used to refresh and cool the scalp after wearing a wig.
Finally, one drop of Scalp Care Oil provides the extra moisturisation often required by a sore, dry scalp.

All our Jennifer Young skincare and beauty products are all natural, made without any synthetic chemicals, and are cruelty free. We take time to blend and formulate our specialist products so that they are suitable for those who have very sensitive skin.

Directions:

Defiant Beauty Dry Scalp Treatment:

Warm a pea sized amount in the hand, apply in sweeping motions to the scalp and remove with a warm cloth or tissue. For more intense moisturisation, apply as a mask and leave as you relax, before removing with a warm cloth.


Defiant Beauty Scalp Cleansing Spritz:

Spritz the natural, therapeutic waters over your scalp and leave to be absorbed.

Defiant Beauty Scalp Care Oil:

To use, warm only a small amount of oil in the hands and apply in gentle sweeping motion over the affected area. Apply to dry, sore, sensitive, itchy skin.

Vegetarian and Vegan friendly.

Ingredients:

Defiant Beauty Dry Scalp Treatment: Prunus armencia (apricot kernel oil), Helianthus annus (sunflower oil), Prunus persica (peach kernel oil) , Calendula officinalis (Calendula), Rosa rubginosa (Rosehip Oil), Tocopherol (vitamin E), Lavendula angustifloria, Melaleuca alternifolia (tea tree) Citrus bergamia, Citrus aurantifilia (lime)

Defiant Beauty Scalp Care Oil: Prunus armencia (apricot kernel oil), Helianthus annus (sunflower oil), Prunus persica (peach kernel oil) , Calendula officinalis (Calendula), Rosa rubginosa (Rosehip Oil), Tocopherol (vitamin E), Lavendula angustifloria, Melaleuca alternifolia (tea tree) Citrus bergamia, Citrus aurantifilia (lime)

Defiant Beauty Scalp Cleansing Spritz: Witch Hazel Floral Water (Hamamelis virginiana), Tea Tree Floral Water (Melaleuca alternifolia)