12 Apr 2022
BASO Ronald Raven Travelling Fellowship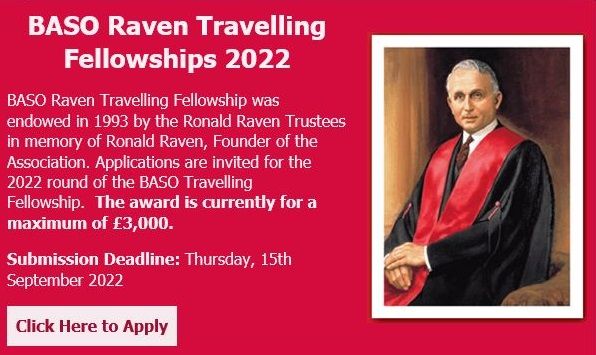 The BASO Raven Travelling Fellowship (formerly known as Ronald Raven Travelling Fellowship Award) was endowed in 1993 by the Ronald Raven Trustees in memory of Ronald Raven, Founder of the Association.
The award is currently for a maximum of £3,000 and may be awarded to one or several individuals as considered appropriate by the BASO~ACS National Committee when considering the merits of their applications.
The Fellowship is open to UK-resident trainees or recently appointed consultants, who have gained the fellowship of one of the British or Irish Colleges, and who intend to travel outside the UK. Applicants need not be members of BASO~ACS or BASO Trainees Group (although this is desirable) but applications must relate to the aims and objectives of the Association.
Applications should be submitted for the attention of BASO~ACS Honorary Secretary, by post to the Association, or emailed to Association Administrator, and be submitted in the following format:
A personal statement outlining the details of the use to which you wish to put the Award and also the benefits you wish to obtain from the visit. Please also include details of any other scholarship/sponsorship obtained and whether you are applying for the full Award or part of it.
Curriculum Vitae (brief version, 3 pages max.)
A letter of support from an independent referee/ supervisor within UK as to your suitability for this scholarship.
A letter of invitation from the unit/institution to be visited, showing that approval has been given for the intended programme.
For more information, please email admin@baso.org.uk